Solar Photovoltaic and Thermal Services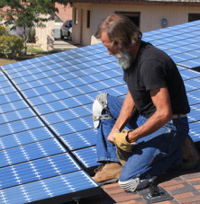 ConservFirst is an independent evaluation company. We help our customers select the most practical and economic solar energy systems for their needs. We are not tied to any particular solar manufacturers or installers, but we know which ones we trust and we always select the best technology for the job.
ConservFirst can assist with the design and installation of solar photovoltaic (sunlight to electricity) or solar thermal (sunlight to heat) projects throughout Northeast New Mexico and Southeast Colorado. We can provide simple solar powered light on a utility pole in the backyard, to a full scale residential or commercial powered electrical powered systems. Thermal systems can provide heat for your hot water system or sized to supply heat for pools, hot tubs & space conditioning. Call us for an evaluation today.
Return to Top