Water Conservation Products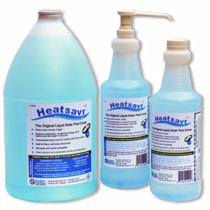 HeatSavr
Heatsavr® is an effective liquid solar pool cover that greatly reduces heat loss and evaporation from your exposed pool surface.
Heatsavr® is made of simple biodegradable ingredients that form the best barrier currently available to slow the heat and water loss that causes high pool room humidity, and high facility heating bills.
Heatsavr® slows evaporation substantially. Evaporation is one of the main forms of heat loss from swimming pools and spas. Slowing it can help keep the heat in your pool, ensuring a comfortable temperature for pool users.
Heatsavr® will lower humidity as well as evaporation. It takes money to buy heat, and heat to evaporate water, so slowing evaporation will lower humidity as well as heating costs.
Heatsavr® will save energy in EVERY heated pool, but heat cost savings vary according to the hours of swimmer use per day, ventilation efficiency, pool design and equipment and especially the type and cost of fuel used. The cost of energy also varies from region to region. Tests have proven that heat bill savings range from a low of 15.5% at a high use 50 meter municipal pool, to a high of 40% at a low use condominium or hotel pool. Savings and benefits can be achieved in all indoor or outdoor pools, regardless of the shape or size.
Recommended dosage is 1 oz per day for every 400 square feet of pool surface or 15,000 gallons. For warmer spas and hot tubs use 1 oz per 60 square feet of surface area.
$ 5.40

Ecosavr - Self Dispensing Fish SPECIAL 40% OFF
WE10.010005
Ecosavr, is a self dispensing fish filled with Heatsavr. Snip the fin, squeeze out the air and toss it in. Can be used in above or in-ground pools up to 400 square feet or 15,000 gallons for reducing loss of heat and water through evaporation. Ecosavr will sink to the bottom and slowly release a stream of liquid that floats to the surface to reduce evaporation loss of heat and water. One Fish will release for 25-30 days. Larger pools require two Ecosavrs. Unheated pools can raise 4-8 degrees F each month.
$ 37.95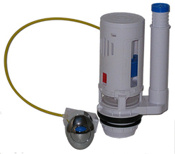 Dual Flush Toilet Retrofit Kit, 2"
WT10.020001
This Dual Flush Toilet Retrofit Kit will give you the same benefits as an expensive dual flush toilet and allow you to keep your existing toilet! The secret is in its dual flush design. Push the blue button for half flush and the larger chrome for a full flush. The dual chambers know exactly how little or how much water to use during each flush. Save over thirty gallons a day for the average family!
It Fits:
- Almost any toilet (View the pdf of the Dual Flush List).
- Angle or side handle toilets, left or right
- Tanks as low as 9" high
- Works in both older 3.5+ gallon toilets and the newer 1.6 gallon toilets
- 2" tank drain
Features
- A quality product made with Recycled materials
- Conforms to all plumbing codes
- Fits most 2" two piece toilets.
Dual Flush Toilet Retrofit Kit includes:
- the "Tower" that replaces the flapper tower in your existing two piece toilet.
How long will my Dual Flush Toilet Kit hold up?
The IAPMO certification process put these units through 250,000 flushes with no issues. So, if the average toilet is flushed 12 times a day (small family) and you multiply that times 365 days, that equals 4,380 flushes in one year. Now do the math...it is 57 years of flushing.
If you have a 2 piece toilet that was made before 1998, we can safely say that our Standard 2" Dual Flush Toilet Retrofit Kit will work just fine on your toilet.
If you have a 2 piece toilet that is built after 1998, then about 80% of the toilets on the market will still use a Standard 2" Dual Flush Toilet Retrofit Kit. Most others will use the 3" Dual Flush kit. Yes we sell the 3 inch Dual Flush Toilet Kit by special request.